Upcoming events
Upcoming events
Nov 21, 2018 20:00 - 22:00
Other
14 participants
Subscription open
On November 21st it is time for Commotie's annual student-lecturer activity! This year we will organize a 30 seconds tournament where you and the lecturers will compete for the title of best 30 seconds team! So do your research so you are able to be the best 'describer' and 'guesser' of the evening. Enjoy this fun activity and get to know your professors in a very different setting...
---
Nov 26, 2018 19:30 - 21:45
Workshops
20 participants
Subscription open
Ever seen a movie with a hilarious blooper reel in the credits that you just couldn't stop watching? How about clips of your favorite celebrity having fun on vacation with catchy and fun music in the background that burns those moments of pure joy into your memory forever? Ever found yourself saying "Wow, that was a great video. I wish I could make something that good!" Well the good...
---
Nov 27, 2018 21:00 - 23:00
Other
27 participants
Subscription open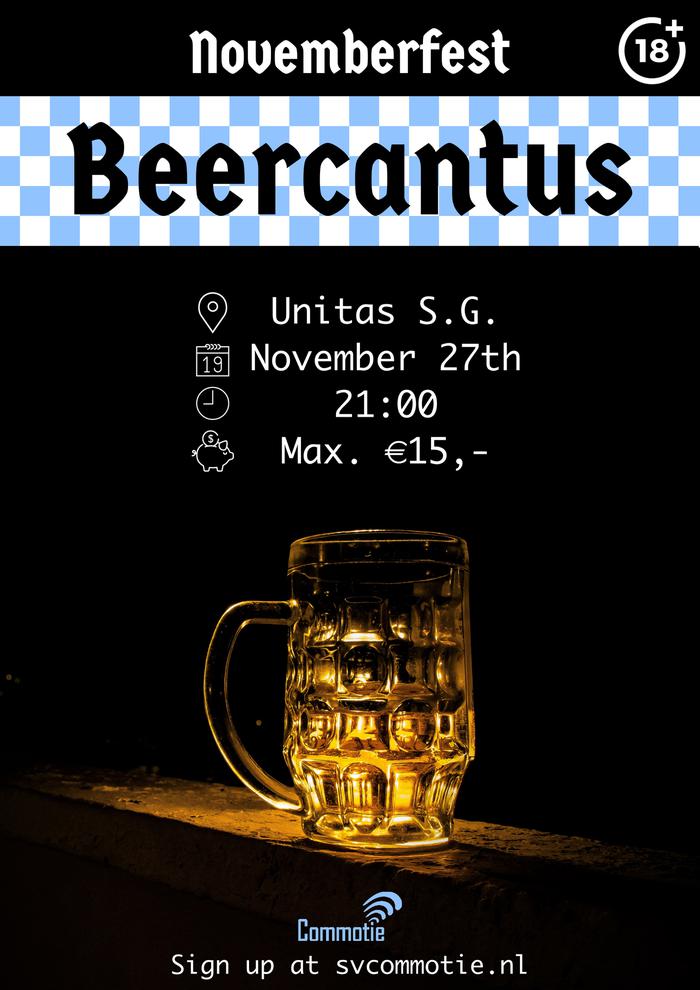 18+ only! Do you like to drink (a lot) of beer? And do you like to sing songs till your voice is literally disappearing? Then you should join the Beer Cantus! November the 27th the ActiviCee will organize this fun activity, which is a success every year. The Beer Cantus will take place at study association Unitas S.G., and theme of this year will be: Novemberfest! So if you have...
---
Dec 4, 2018 21:00 - 22:00
Active members
On the 4th of December, the Central Commitee Assembly will take place. The chairmen of the committees will inform the rest of the active members about the past month and the work they have done. Are you not able to attend the CCA? Please let us know by sending an email to Chiel Visser on internalaffairs@svcommotie.nl. After the CCA, the monthly social will take place at 't Golden Fust at 22:00h where the destination of this year's trip abroad will be announced!  We hope to see you there!
---
Dec 4, 2018 22:00 - Dec 5, 2018 01:00
Socials
On December 4th it is time for the monthly social! Enjoy beer for only €1,50 and wine for €2,-
---