Upcoming events
Upcoming events
Sep 2, 2019 17:30 - 19:30
Freshmen
4 participants
Subscription open
Enjoy a great burger and the company of your fellow CIS students during the Freshmen Dinner at the Blokes! You are welcome at the Blokes (Poelestraat 33) as of 17:00, your burger will be served at 17:30. For a price of max. 10eu, you will be able to enjoy a wonderful burger with fries and one drink included! If you are a vegetarian or have any other dietary wishes, please send an email to kandidaatbestuur@svcommotie.nl. We hope to see you on the 2nd of September at the Blokes!
---
Sep 2, 2019 20:00 - 21:35
Other
7 participants
Subscription open
On Monday, September 2nd, right after the Freshmen Dinner, the annual start-of-the-year pub quiz will take place! We will meet at 20:00 at Hemingway's Cuba (Gedempte Kattendiep 2-1), where we will enjoy some drinks and get to test our knowledge about all kinds of topic! This activity is open to all our members, which offers everyone - both first-year students and members who have been around for a while - the opportunity to get to know each other.
---
Sep 6, 2019 14:00 - Sep 8, 2019 12:00
Freshmen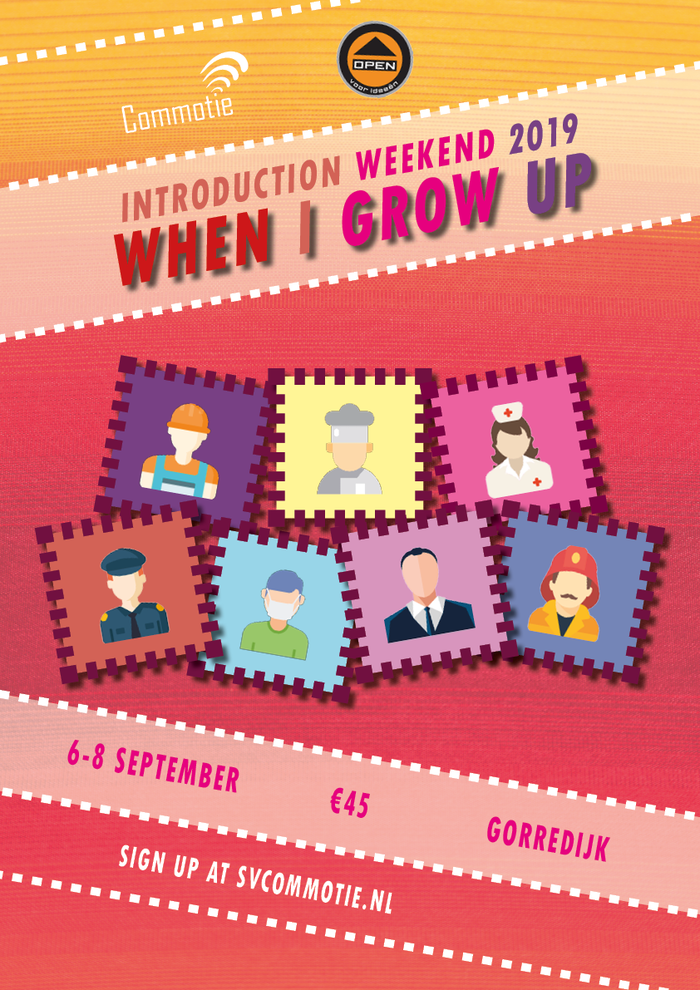 From September 6th till September 8th it's time for the introduction weekend 2019! This weekend is the perfect opportunity to start off your academic year in the best way. Get to know your fellow Commotians during this fun weekend.  The weekend will consist of a variety of fun activities, games and parties. This year's theme will be: 'When I grow up'. The activities will be kept...
---
Sep 10, 2019 12:00 - 14:00
Active members
On Tuesday, September 10th, the annual Committee Market will take place in the Exposition room! Come by the stands to get more information about the committees and, if you're excited already, apply for a position on the committee of your choice straight away! The Committee Market will take place between 12:00 and 14:00. If you're unable to come by for whatever reason, send an email to board@svcommotie.nl  in which you explain what committee you would like to apply for, and don't...
---
Sep 10, 2019 21:00 - 22:00
Active members
On September 10th, the Central Commitee Assembly will take place. The chairmen of the committees will inform the rest of the active members about the past month and the work they have done. Are you not able to attend the CCA? Please let us know by sending an email to Chiel Visser on internalaffairs@svcommotie.nl. After the CCA, the first monthly social of the new academic year will take place at 't Golden Fust at 22:00. We hope to see you there!
---
Sep 10, 2019 22:00 - 01:00
Socials
On September 10th the first monthly social of the new academic year will take place! The social starts at 22:00 in 't Golden fust. Beer will of course be 1,50 and wine 2 euros! We hope to see you there!
---