To pay ode to the Boards
The website of Commotie says: "Every academic year, a couple of enthusiastic students are chosen to lead the association in Groningen." This is so true! I have known many boards. Every year, right after the election, the new board members come and visit me in my room. Always with happy faces, proud to have been nominated, full of plans and very pleased to be part of THE - iconic - BOARD. Eager to start right away! But, while the new board is presented before the summer holidays, they have to wait until September before they can really start with their board position. Until September they are called " the candidate board". How sad is that!
Soon after their election I contact them about the introduction days for new first year students, we keep in touch about information days for potential students and about the organisation of events like career days and the search for interesting alumni. Every year I, as your study advisor, am so happy with the support I get: Commotie is very good at proactive supporting all kinds of activities.
And then there is that other moment of contact with the new Board: already in the beginning of October some board members visit me during my office hours. Sometimes a little bit shy, they tell me about the many tasks, the hectic moments, the responsibility they feel for 'their' association. And about the many deadlines they have, the study pressure they feel, and soon about the reason they came: they want to quit a course to get more time for their board tasks or want some help with their study planning. And that's the moment I can do something for them: support them with their studies.
Every year I experience that the Commotie board members really want to do their utmost best to make a success of their important task: ruling the association! They are all very committed to Commotie. That's why I want to make a statement: cherish your iconic board members, because they also care about you! It's a big responsibility they bear, they all do it for you!
(This also counts for the members of all the Commotie committees!).
I hope I will meet many more iconic board members in the future!
Aletta Westra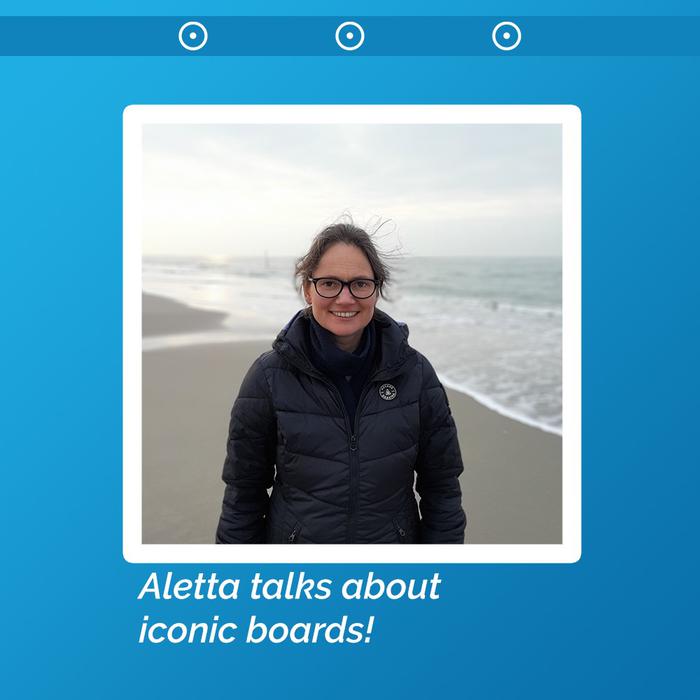 Lard and Annick about iconic
Five years, four foreign trips, four hitchhike competitions, Active Members Weekends and countless other activities later it is lustrum again. Annick and Lard are walking towards another information evening, this time for their fifth trip abroad. They had to retrieve memories. Preferred iconic memories. The setting spring sun provides a beautiful backdrop. On the one hand, a sense of enthusiasm arises for the countless unforgettable moments, and on the other hand, melancholy: five years at Commotie also symbolizes the loss of a couple study years. Although lost...?
The many people who came and went left their mark. Lard speaks about the time that he practically lived with the cheerful Kay Flierman, who had a special diet of fries, snacks and pancakes. Annick mentions Pieter Polhuis, also known as PP, who transformed from a crazy fool who was a guarantee for adventures to a lobbyist to be reckoned with.
There are a lot of people whom are mentioned. Take for example the true Commotian legend Bart Scholte with his extensive arsenal of bad jokes. Or Esmee Oudman who had only one joke (cactuses) which she told over and over again. Walking along the Golden Fust, thoughts go back to Lotte Kreuwel, who single-handedly maintained the turnover of sweet white wine.
The Golden Fust is an iconic concept in itself: every first Tuesday of the month, everybody gathered in this pub at 10 p.m. The same music for years, infinitely many shots during peak hours, competitions "whoever drinks the fastest," and mexxes were and are the norm. There were also countless loves (for a longer period of time or just for one night), quarrels were made and talked out again, but mostly friendships were made.
These friendships were always further sealed at the multi-day activities. It was always striking how fast you could go from meeting someone to being best friends. How you would drink Dors, play games and have fun one night and seeing those same people the next morning at their utmost ugliest. It creates a bond, every time again.
Annick and Lard arrive at the information evening for the foreign trip. A group of more than thirty people are waiting. The group is vastly different compared to the group three, or even five, years ago. One thing stays the same: we know more iconic moments will follow.
Memory of an iconic day with Commotie
It is more than two years ago, but I still clearly remember the company visit that I was invited to by the Commotie Prakcie. After having heard me referring in class a number of times to publications from the Dutch language organisation Onze Taal (some 22.000 members; see www.onzetaal.nl), the Commotie Prakcie decided to travel all the way to The Hague to meet some key role players of Onze Taal, in order to learn how the organization works and what it tries to achieve.
I really felt honored to be invited as a fellow traveller – not only because it made me feel that at least some of the stuff I had been talking about in class had been appreciated by the students, but also because as a member of the board of Onze TaalI would have the opportunity to hear what the colleagues working at the Onze Taal office would interact with this bunch of youngsters interested in the Dutch language.
It really was a great day. It was nice to be able to chat with the students in the train in a more informal way than is usually possible in class, it was good to see that the students did not loose interest after hearing quite a number of talks by Onze Taalcolleagues, and it was refreshing to learn from the students what kinds of Onze Taalactivities young people might and might not appreciate. Today still, when in the board possible new initiatives are discussed, references are often made to the input from the Commotie students. Well done, organizers of this visit, and the best of wishes to all Commotie members for the years to come
Carel Jansen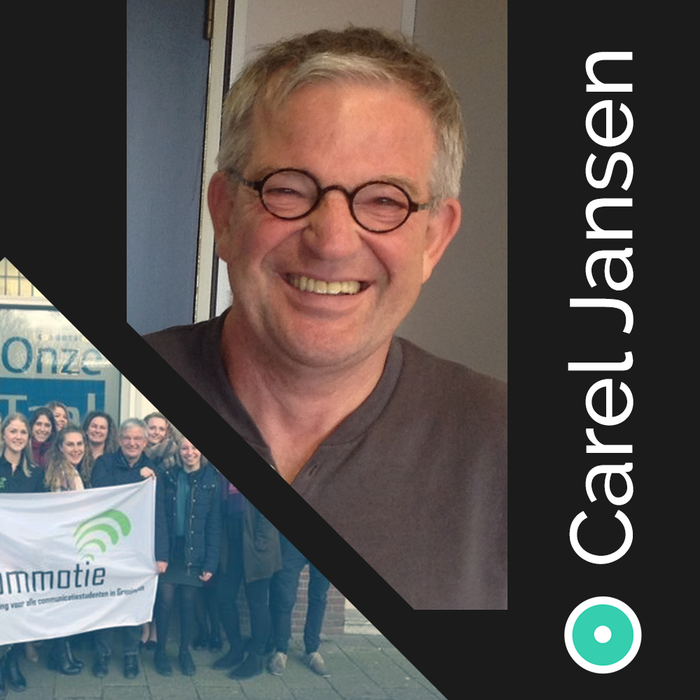 Commotie Lustrum 2013
As the president of the former Lustrum committee, I was asked to reflect on the 'Iconic'-moments of the SV Commotie Lustrum of 2013. Naturally, I consulted my committee members if they could remember any iconic moments from our time organizing the previous Lustrum. Various things came up, both from organizing the week and of the week itself.
Most importantly, we got introduced to Ina Strating. Ina Strating is a veteran in crisis communication and all-around communication professional. However, what was most iconic about Ina is how she kept repeating to us that she could have been our mother. A strange, but nonetheless true observation.
Next to that, organizing such a week takes a big toll on your sleep and ability to recover quickly after a night of 'organizing' and 'networking'. Leading to the 'iconic' moment that Job (one of my committee members) used the shower next to the Commotie office before the last activity of our week, the brunch, to actually take a shower and freshen up.
But most of all, it was iconic how we got to grow from a committee to almost a family. With a mother, father, crazy uncle and hyperactive kids. I look back on it very fondly, and I will always cherish the times we had organizing and doing the Lustrum of SA Commotie in 2013.
Stijn Bergman